One of the first non-base items we created for War Cast Studios were these wooden barrels and kegs for 28mm fantasy miniature games.  The packs came with 5 large and 5 small barrels.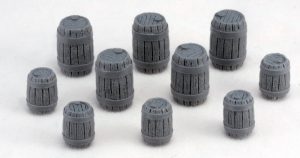 The masters were created using wooden dowel and some thin plastic styrene sheets.  The wooden dowel was slightly beveled on a disc sander which gave the barrel its classic tapered shape at the top and at the bottom.  Next, a small grinding disc was pressed gently on the top using a dremel, to slightly indent the top giving a recessed lid look.  Once that basic barrel shape was created, a sharp wedged carving tool was used to scape in the wooden slats down the sides.  A similar, but lighter technique was used to add the wood grain texture (otherwise it would have looked too smooth).  Finally, thin plastic strips where cut and glued into place to create the metal bands.  The bung was created using a small craft hole punch in the styrene.
These simple barrels were cast using a silicon block mold technique. This means that the bottoms of the barrels were flat and featureless, but that small sacrificed allowed us to produced loads of barrels quickly. You can never have too many barrels in you fantasy marketplace for minis to take cover during the inevitable disruption a peaceful morning.