The Story
This Pirate's Cove board is a 4'x4′ showcase board that was commissioned for Firelock Games for their 28mm historical pirate miniatures game, Blood and Plunder.  You can see this board featured all throughout the rule book.  We made sure to add loads of details so it would make a strong first impression when they bring it to shows.
The main concept for the design was that the board needed to be able to show land combat rules as well as naval combat.  The idea of the of the classic hidden beach where a pirate captain could hide his booty, was the perfect concept to capture one's imagination.
The board's many features include a worn wooden dock, a hidden grotto tucked away in the jagged cliffs, a wooden suspension bridge to cross over the river inlet, two earthen works gun emplacements high upon the clifftops, and plenty of tropical vegetation to lay and wait to spring your ambush.
The Technical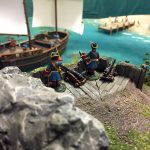 One of the biggest challenges with this board is that it needed to travel well without getting damaged.  With the amount of epoxy resin and rock substrate, this board was also heavy.  We did not get a final weight on it, but it nears the 150lbs mark.  We felt the best way to do this is to build it into a crate.
The bottom base of the board is 1/2″ ply strengthened with a frame and gusseted with cross beams.  The top of the crate actually slides down over the sides and lines up with 12 bolt holes to secure it.
All of the tall palm trees are fitted with a brass pin and are inserted into a brass tube that is permanently seated in the terrain.  Very quickly you can remove all the trees, creating a much lower profile and consequently a much lower profile for the crate.
The water was created with Envirotex Lite to create the 1″ deep water.  The main color of the water comes from airbrushing the ocean floor before pouring the epoxy.  We did add a small amount of color tint to the epoxy to give a better sense of depth.  We used several gallons of expoy resin over several pours.  The most stressful part of the entire process was the pour, because it is the very last thing to do.  All the final sculpting and painting must be done first.  If you mess up a cliff face, you can always remove the plaster and redo it, but there is no redo on the pouring.  The board also has to be absolutely level.
SaveSave